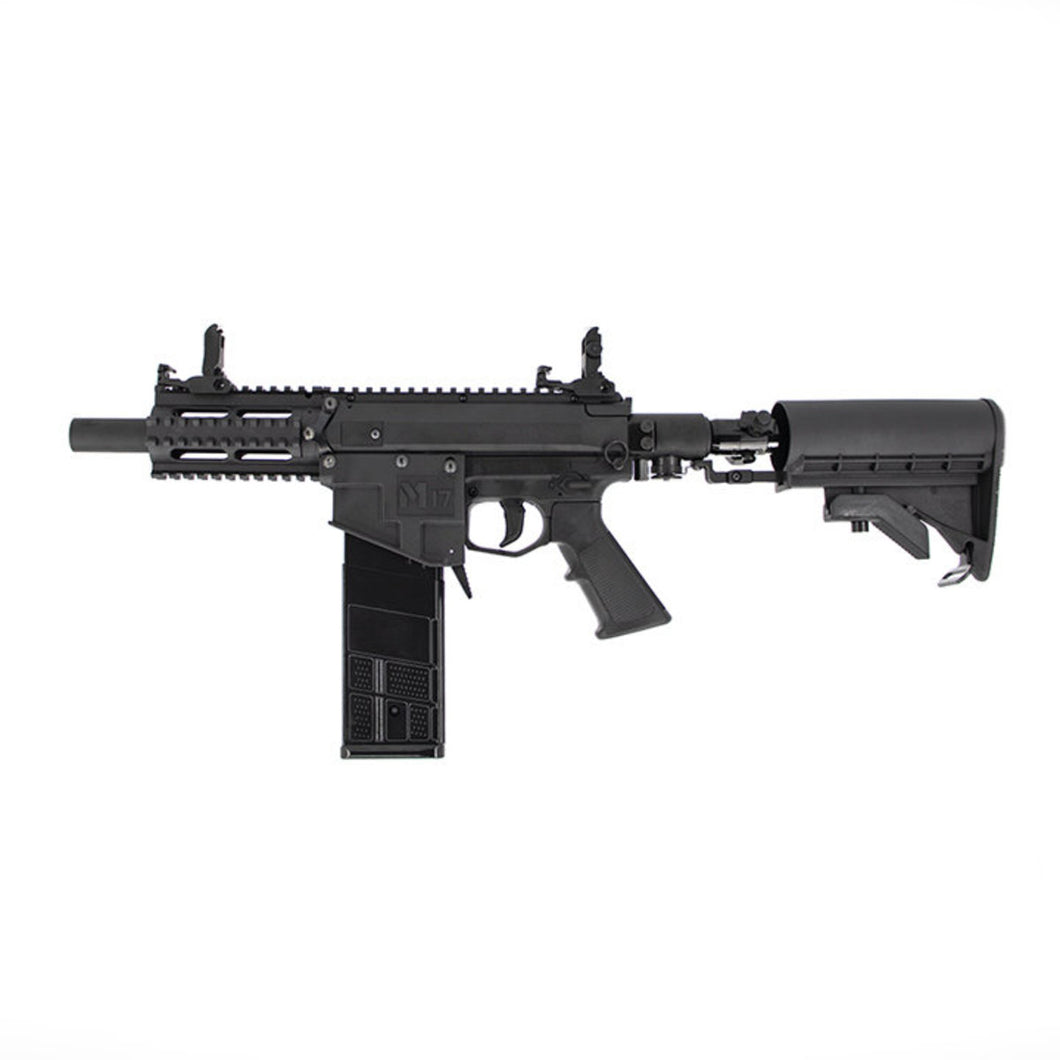 Valken M17 Magfed Paintball Marker
Regular price $369.00 Sale
One of the most popular and fastest growing parts of the paintball world is mag-fed paintball! The thrill of paintball combines with the challenge of making every shot count with limited ammunition in tactical paintball operations that make the very best equipment more important than ever, and Valken's Mag-fed M17 paintball gun will help you accomplish any mission! Rugged and innovative, the Valken M17 mechanical paintball gun requires no batteries to operate and fires from a unique blow forward operating system for consistency and accuracy. Fed from 18 round magazines able to feed .68 caliber paintballs and First Strike rounds, the M17 features a flat top with a scope or sight rail, the ability to switch from semiautomatic to fully auto at the flip of a lever, a polymer AR-style pistol grip, accessory rails for lights, lasers foregrips or other accessories and simple takedown with only two pins! Tough and packed with accessories, the Valken M17 mag-fed carbine is the perfect tactical magazine fed paintball gun for any serious paintball operator!
*AIR TANK NOT INCLUDED*
**THIS MARKER HAS A PROPRIETARY BARREL THREAD AND IS NOT COMPATIBLE WITH A5 THREADED BARRELS**

***WARRANTY DISCLAIMER NOTICE***
Please be aware that Valken offers the M17 paintball gun for use in magfed and tactical paintball games, and as a powerful and viable option for less than lethal defense protection applications when utilized in accordance with applicable laws and regulations. However, please be aware that modifications that push the M17 out of its designed and intended use specifications as outlined and provided in the Valken M17 owner's manual will void its warranty. This includes but is not limited to over-pressurization of the paintball gun, shooting the paintball gun well above its stated velocity range, modifications of internal and external operating systems undertaken with non-manufacturer parts or otherwise altering the Valken M17 to operate outside its factory specifications, as determined by Valken representatives and factory technicians on a case-by-case basis at the time of warranty or service contact.